Altaro is a great blog sponsor of mine and reached out to me recently to see if there was interest in doing a separate project with them. A vSphere troubleshooting webinar. I've compiled a list of some of the most popular scenarios and put them together in an eBook. We'll be discussing them April 25th! You can register at the link below.
---
Troubleshooting complex virtualization technology is something that system administrators have to face at some point, and it's not always an easy fix to get things up and running again. We're running a webinar that will cover the most common problems experiences in VMware vSphere. Register for the webinar here.
Andy Syrewcize and Ryan Birk will bring a wealth of experience in troubleshooting some of the most common issues admins face. Andy has spent the last 12 years providing technology solutions across a variety of industries, and has experience in troubleshooting VMware infrastructures for education, manufacturing, healthcare and other industries. Ryan is a VMware vExpert, and a VMware certified trainer, having consulted and engineered infrastructures for a variety of companies.
Here's what you'll learn:
Troubleshooting some of the most common vSphere problems
Quick and efficient issue fixing practices
Maintaining a smooth running vSphere environment to avoid future issues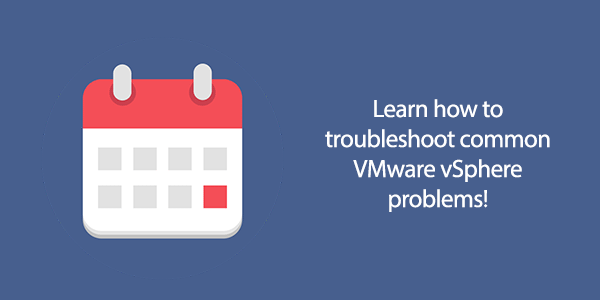 Date: Tuesday April 25th, 2017
Time: For US registrants: 10am PDT/1pm EDT, for RoW registrants: 2pm CET

PS: We're releasing an eBook by Ryan on the same topic soon as well. By registering for the webinar you will get early access automatically!